Industry
---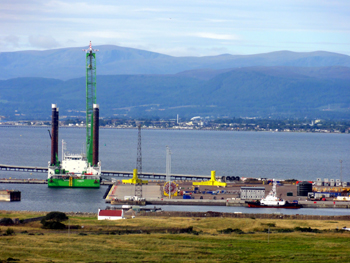 When BP struck it rich with their "Forties" field, in 1970, they were faced with the daunting prospect of getting the oil out from under 450 feet of water. This meant ordering massive production platforms, the biggest ever built, structures capable of withstanding the atrocious weather of the northern North Sea, with its huge waves, ice and snap hurricanes. After months of agonising and research the job went to the Houston based engineering firm of Brown and Root. The designers came back with an impressive piece of technology. What was needed, they said, was a set of four huge steel structures, each about 550 feet high (more than 700 feet to the top of the drilling derricks). Each platform was to consist of a supporting structure (jacket) consisting of 20,000 tons of steel, topped by a 3,000 ton deck, 12,000 tons of well casing, 13,000 tons of machinery, piping etc., to be transfixed hundreds of feet into the seabed with 9,000 tons of steel piling. The whole package would weigh 57,000 tons and each would cost roughly £50 million. The platforms would be linked to one another by a submarine pipeline, which would then run 110 miles to Cruden Bay in Aberdeenshire, and from there overland to a specially built tanker terminal at Grangemouth.
It was quite a scheme, and far too big for one firm, no matter how large and experienced. BP gave Brown and Root three contracts: one to design and supervise all four platforms, one to build the support structures (jackets) for two of the platforms, and another to lay half the submarine pipeline. At the end of 1971 a new company was registered in Edinburgh, called Highland Fabricators. Despite the name, this was not a Scottish company. It was a consortium, with Brown and Root owning 662/3% and George Wimpey the junior partner. Within weeks of the company being formed the Wimpey men were on site reclaiming it from the sand flats and duneland surrounding Nigg Bay. It was a big job and needed a lot of land, so the company bought up as much of the surrounding land as they needed. By the middle of 1972 Hi-fab, as they became known, had almost completed what was being widely billed as 'the biggest hole in Europe', the graving dock in which the steel jackets would be built. It was an extraordinary rapid build-up of a vast site in a very isolated area. The huge graving dock (1,000ft by 600ft by 50ft deep) is situated at the south end of the site, where the huge concrete docks open out into the deepwater channel at the mouth of the Firth.
If there is one enterprise which can be said to have transformed the face of the Cromarty Firth, it is the yard - tucked into the lee of the Hill of Nigg - set up by Highland Fabricators. For sheer impact - economic, social, industrial, political - none of the other oil-generated projects in Easter Ross can compare with this platform-building yard. By the end of 1972, more than 600 workers were on site, by the middle of 1973 there were 1,300 and workers were coming from further and further afield. By midsummer 1974, the workforce had reached 2,000 in a drive to get the Forties Field platform out before winter. With such a huge operation underway it goes without saying that problems occurred. Bringing in unskilled men, from all parts of the country, and even further afield, led to its own problems.
Health and Safety was not as we know it today. Unsurprisingly, Hi-fab fell behind their schedule. The original 'float-out' date for the Forties Field jacket was mid-1973 and it finally floated out on 17th August 1974. The result was, at that time, the production of the world's largest permanent production structure (Highland One), standing 475feet (144,8m) high, and 300feet (92.4m) by 250 feet (76.2m) at the base, and weighing 33,850 tons and contained more steel than the Eiffel Tower. The jacket was duly placed in the Forties Field, and was able to withstand waves of 94 feet (28.7m). A second jacket - Highland Two - was duly floated out on 27th June 1975.
Under the Industry Act of 1972, Scotland was classed as a development area. This meant that Hi-fab could claim back a 'big bunch of incentives' probably worth about £5 million, maybe more. No wonder a big, powerful company like Brown and Root moved into an area like Nigg!! The big production platforms were hailed as wonders of British technology and enterprise. They were hardly that: all four Forties Field platforms were designed and supervised by Brown and Root, two of them were built by them. The thousands of tons of steel came from Japan, France and Scandinavia. Five of the ten deck modules to go on top of the platforms were built in Holland, most of the drilling equipment came from America and all the steel for the pipeline came from Japan.
The speed at which the yard was built up (0 to 2,000 people in two years) all but swamped the housing in Easter Ross and with the Council refusing to allow 'camps' to be built, Hi-fab brought in two rather dilapidated cruise liners to house the workers. This was not as popular as you may think - with cramped conditions and living in each other's pockets leading to all sorts of problems. Nevertheless, the oil boom had well and truly started!!
Hi-Fab was the start of the huge oil and gas industry based around the Cromarty Firth. At its height the yard employed around 5,000 people from all over the Highlands, and beyond. There were twenty five years of successful production at the Hi-Fab yard, but in 1997 reduced demand led to the creation of BARMAC, the result of a merger with McDermott Scotland in Ardersier. A major £7.5 million refurbishment of the dry dock was completed and a first contract for the new dock was won. The work was for Elf, creating production facilities and accommodation for the Elgin/Franklin oilfield. The reprieve was short-lived, however, and by December 1999 the yard was put on a 'care and maintenance' basis and by the following April all jobs had gone. Six years passed before the yard was put up for sale, in 2006.
---
In 2011 the Nigg fabrication yard was bought by Global Energy Group, became Nigg Energy Park, and with investment from the Scottish Government the area has begun to see a new influx of workers to the area again with the yard having plenty of work in the renewable energy sector and also in oil drilling rig refurbishment. In 2012 Global Energy Group set up a skills academy to create new jobs for local residents and young people and this has resulted in a fall in unemployment in the area and a welcome boost to the local economy. The extra work at Nigg has also seen an increase in work at the docks in Invergordon.
---
In October 1978, the Cromarty Firth Port Authority reached agreement with the Mesa Consortium, George Wimpey & Company and Brown & Root to develop a £50 million, 57-acre, oil storage and marine terminal complex in Nigg Bay, to take oil from the Beatrice Field. The Port Authority purchased the sea bed, on which the marine jetty was built, and additional foreshore for the pipeline. A 'Certificate of Completion' was issued to the Nigg Oil Terminal in November 1981, shortly followed by the arrival of the first oil from The Beatrice field.
The following year, over a million and a half tonnes of crude oil were shipped out from Nigg in thirty tankers and by 1985 there was a record number of semi-submersible oil rigs, support vessels and forty-three crude oil tankers using the firth. In addition to the pipeline from the Beatrice field, oil has been brought into the Nigg Oil Terminal by ship sine 1993. In 1998 the terminal handled 100,000 barrels of crude oil per day and could store about 1,400,000 barrels for shipment. In 2003 the first one million barrel trans-shipment took place putting the Cromarty Firth among the leading sites for this type of work in the UK. By 2012, 98,000,000 barrels of oil had been transferred in 484 ship-to-ship operations.
---
At Highland Deephaven, Evanton, to the west of Invergordon, a causeway, nearly 1,000m in length, with a jetty-head at the end, was completed in mid-1980's, to allow production of the great lengths of pipeline that were reeled on to Apache, owned by American firm Santa Fe. Now the causeway extends to 1,300m and the Apache has been replaced by the larger Apache 11 in transporting reels of pipeline ranging from 2-16 inches (5.1cm – 40.6cm) in diameter. In 2008 the company (now Technip) invested £3 million in the Evanton base to increase storage capacity for 'pipestalks' (which are joined to make 'pipelines' for subsea projects) and to improve the efficiency of production and spooling of fabricated pipelines.
---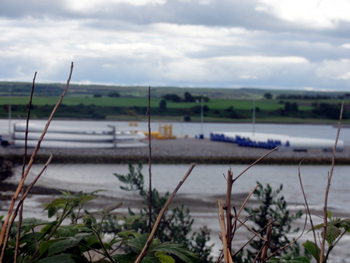 The £2.6bn Beatrice Offshore Windfarm Ltd project has just been given the green light for construction by owners SSE (40%), Copenhagen Infrastructure Partners (CIP) (35%) and SDIC Power (25%) after reaching Financial Close on 23rd May 2016.  The project will be one of the largest private investments ever made in Scottish infrastructure. The 588MW, 84 turbine, wind farm will be situated in the Outer Moray Firth and is expected to power approximately 450,000 homes (around three times the number of homes in the Moray and Highland regions). Construction at the new £10m operations and maintenance facility in Wick and the transmission works in Moray will commence in 2016. Offshore construction will begin in 2017 and the wind farm is expected to become fully operational in 2019.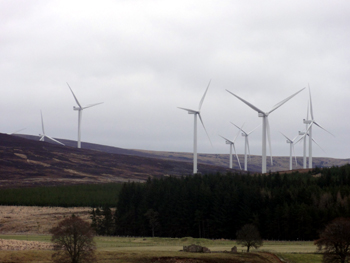 Siemens, one of the companies involved in the project, will use Nigg Energy Park, owned by Global Energy Group, for assembling turbines from spring 2018. Components from all over Scotland and Europe will be delivered, stored and assembled into complete wind turbines. The firth's usual ranks of oil rigs will be joined by strange hybrid offshore wind farm construction vessels, part ocean-going barge, part jack-up rig. These will load up with half a dozen Siemens turbines at a time, and sail out through the Sutors to install what are some of the world's largest machines, in the seas of the Moray Firth. Global said Nigg's involvement would help to secure work for more than 100 people. This contract will provide a very welcome boost to the local economy in Ross-shire and the wider Highland area.
As the wind farm is built, the Beatrice oil complex will be decommissioned and eventually removed, having reached the end of its hydrocarbon-producing life.
---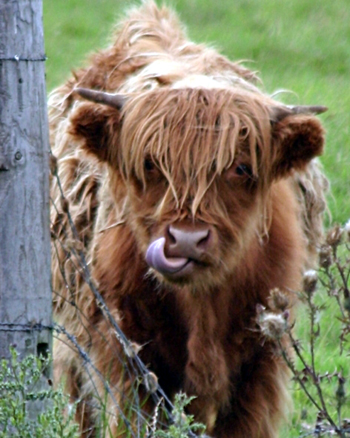 Some 80% of Scotland's land mass is under agricultural production, making the industry the single biggest determinant of the landscape we see around us. The numbers employed directly in agriculture have dropped by 40% in the forty years between 1976 and 2016 due to the increased size of machinery and efficiency improvements.
Scotland's farmers, crofters and growers produce output worth around £2.9 billion a year, and are responsible for much of Scotland's £5 billion food and drinks exports.
Whatever the outcome of Brexit negotiations, the Scottish countryside will adapt. The June 2016 farming census found 63,400 people are directly employed in agriculture in Scotland (1,900 fewer than 2015) – this represents around 7% of the rural workforce and means that agriculture is the third largest employer in rural Scotland after the service and public sectors. It is estimated that a further 360,000 jobs (1 in 10 of all Scottish jobs) are dependent on agriculture. These jobs are largely in agricultural supply, and in food and drink processing.
There are large numbers of farms in north west Scotland, but these are significantly smaller in terms of the numbers of livestock/area of crops grown than farms elsewhere. Sheep farming is the predominant type of farming in the north west and there are also many sheep farms in the south of the country. Larger cereal farms are concentrated in the east. Beef farming takes place throughout Scotland, but is particularly common in the south west. This area also has the bulk of the dairy industry. 
According to the Scottish Executive's Environment and Rural Affairs Department, the average net farm income for 2014 is £23,000 - having halved in four years.
What we Produce
Cattle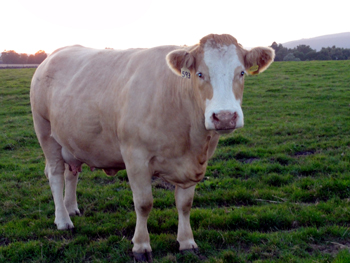 The beef industry is the single largest sector of Scottish agriculture. Scotch beef is world renowned for its quality. Scotland has just over 1 million beef cattle, including almost 496,000 breeding beef cows, kept on almost 13,000 holdings.
In June 2016, the cattle population was 1.80 million on around 12,000 agricultural holdings in Scotland.
Total production is 180,000 tonnes of beef worth £400 million.
Scotland has almost 30% of the UK herd of breeding cattle and 4% of the EU herd.
Overall trends show the total number of cattle falling 195,000 (9.7%) from 2.00 million in 2006 to 1.80 million in 2016.
Limousin remains the most popular breed in Scotland, followed by Aberdeen Angus and Simmental. Among dairy breeds, Holstein Friesian accounted for over 60% of dairy cattle. 84% of beef cattle were cross-bred, whereas 89% of dairy cattle were pure-bred.
Sheep
There are around 2,600,000 ewes in Scotland.
3 million finished lambs produced 55,200 tonnes of meat worth £120 million. 
Breeding sheep were kept on just under 16,000 holdings. 4% of these holdings have almost 30% of the breeding flock. The average flock size in Scotland is just over 200 ewes. 
Scotland has more than 20% of the UK breeding flock of 15.3 million ewes. The UK has the largest sheep flock in the EU – over a quarter of the total EU flock.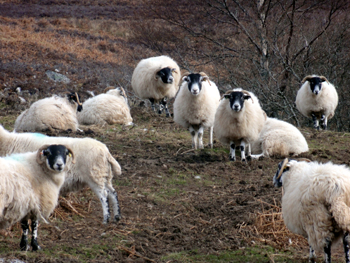 In June 2016 the sheep population was 6.83 million on around 14,900 farms in Scotland. Ewes used for breeding in the previous season accounted for 38% of the total, with rams to be used for service just over one per cent. This is an overall decrease of 10.5% over the past ten years.
The introduction of Single Farm Payments in 2005 signalled a steeper decline in sheep numbers than had been witnessed earlier in the decade (following restocking after the 2001 foot and mouth outbreak) with a decrease of 1.13 million sheep evident between 2005 and 2010 (annual average decline of 3.0 per cent).
To a certain extent commercial forestry has replaced sheep in certain areas. In 1965, 8% of Scotland was woodland whereas by 2015 this figure had reached 18%. This meant that people left the hills due to the economy and the lack of continued employment with most forestry work done by contractors on an as and when basis.
Dairy Farms
Scotland has about 200,000 dairy cows. Over a billion litres of milk are produced worth more than £230 million.
1,489 holdings had dairy cattle with an average of 130 cows per holding. By January 1st 2016 the number of holdings had fallen to 974. Problems with production costs and retail pricing have led to many farmers leaving the sector recently.
Scotland has approximately 9% of the UK dairy herd. The UK has the third largest dairy herd in the EU after France and Germany, and the largest average herd size.
Pigs
Scotland had 330,000 pigs in 2016. 32,000 of these make up the breeding herd.
58,000 tonnes of pig meat was produced worth £63 million.
Scotland has almost 10% of the UK pig herd. 
560 holdings had breeding pigs. A third of these holdings are in the North East of Scotland.
Poultry
In 2016, there were approximately 14.1 million poultry in Scotland of which 6.3 million comprise egg-producing hens and around 6.5 million chickens are reared for meat production.
119,000 tonnes of chicken valued at over £87 million was produced in Scotland.
Scotland's egg production is at a high. 853 million eggs are produced with a value of over £30 million.
UK egg production is worth around £550 million annually.
Cereals
In 2012, 488,000 hectares of cereals and oilseeds were grown in Scotland.
332,000 hectares of barley were grown and 100,000 hectares of wheat.  There were 24,000 hectares of oats and 37,000 hectares of oilseed rape.
2 million tonnes of barley worth £117 million and 906,000 tonnes of wheat worth over £56 million are produced.   
More than 12% of the UK cereal area was grown in Scotland. The UK is the third largest cereal producer in the EU after France and Germany.
The main cereal crop in Scotland is barley and 28% of the UK's barley area is in Scotland. 35% of it goes into malting. 55% goes for animal feed. There are two types of barley: winter barley is sown in the autumn and spring barley is sown in March or April. 80% of the Scottish crop is spring barley. Milling wheats grown in Scotland are mainly used for biscuit making. Wheat is also used in distilling and for animal feed.
Potatoes
Most of the seed potatoes for the UK potato industry are grown in Scotland
in 2013, just over 27,000 hectares of potatoes were grown in Scotland
Scottish potato output was over 1 million tonnes, worth £104 million.
Potatoes were grown on just under 3,000 holdings in Scotland
25% of the holdings accounted for 77% of the potato acreage
Oilseed Rape
Scotland's farmers produced over 131,000 tonnes of oilseed rape worth over £19 million. Oilseed rape goes towards producing oil for cooking but also for producing biofuels.
Fruit and Vegetables
Fruit farming remains labour intensive. In the 1970's there were no polytunnels and local folk picked the produce. 12,000 tons worth £3 million were produced. By the early 90's polytunnels were appearing and supermarkets began to be supplied. As a result 'child labour' ended and migrant workers took over.
There are 18,000 hectares of vegetables and soft fruit grown in Scotland
Scottish producers produce more than 2,500 tonnes of raspberries and 4,700 tonnes of strawberries 
A total of 1,600 hectares of fruit was grown on around 520 holdings
Other fruits, such as rhubarb are also grown in certain areas. By 2016 cherries were becoming more favoured than raspberries because of their late season which provides a more lucrative market.
Field vegetables such as carrots are grown on the very best land.
Other vegetables such as peas, beans and turnips are also grown, sometimes for animal feed and sometimes for human consumption.
Some farmers also grow other vegetables such as cabbages, leeks, broccoli, mushrooms, Brussels sprouts.
A small number of farmers also grow bulbs and flowers.
---
Europe's deer farming industry started in Scotland. The first fully commercial deer farm was started in 1973 in Fife, and today there are around 30 deer farms around Scotland, from Orkney to the Borders, all farming red deer.
Initially, deer farmers concentrated on providing breeding stock to meet the ever-increasing demand, and deer from parks and Highland estates were recruited into farming herds. Some estates built catching and handling facilities so that their annual hind and calf cull was taken alive instead of being shot.
Nowadays there are enough farmed deer to provide breeding stock for UK farms without recruiting from wild stock, and Scotland's deer farmers, instead of trying to be store calf producers, breeding stock producers and finishers all at once, have now become specialised, with store calf producers in the uplands, and finishers on the low ground better pastures, just like other livestock industries. Deer farmers like to talk of 'finishing' their deer rather than using the beef term 'fattening' because one of venison's main attractions is that it is so low in fat.
Farmed deer are raised on grass, with generally only young stock (calves) being housed during their first winter to protect them against the elements. Farmed deer are extensively grazed on grass, supplemented by hay, straw, and roots such as potatoes in the winter. Because deer lose their appetite and ability to grow in the winter, there is no point in feeding expensive concentrates, though some young stock are given grain such as barley for a few months until they are turned out onto the spring grass.
Prime farmed venison comes from deer of less than 27 months, this cut-off age being because the meat (especially from males) becomes progressively tougher after that. Scottish farmed venison is sold at farmers markets, through farms shops and specialist urban outlets, including supermarkets and restaurants, and several deer farms offer a direct mail order service.
---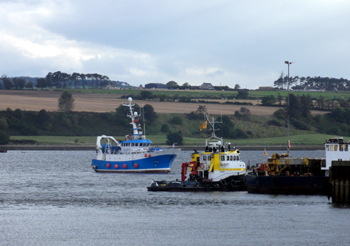 The fishing industry in Scotland comprises a significant proportion of the United Kingdom fishing industry. A recent inquiry by the Royal Society of Edinburgh found fishing to be of much greater social, economic and cultural importance to Scotland than it is relative to the rest of the UK. Scotland has just 8.4% of the UK population but Scottish vessels accounted for 62% of the quantity of landings by the UK fleet (more than double the 29% caught by English boats).
Many of these are ports in relatively remote communities such as Fraserburgh, Kinlochbervie or Scrabster which are scattered along an extensive coastline and which, for centuries, have looked to fishing as the main source of employment. Restrictions imposed under the Common Fisheries Policy (CFP) affect all European fishing fleets, but they have proved particularly severe in recent years for the demersal or whitefish sector (boats mainly fishing for cod, haddock and whiting) of the Scottish fishing industry.
All around the coast crabs and lobsters are fished by inshore boats, while the west coast lochs and The Minch have fertile prawn grounds. Fish farming, mainly of Salmon, but also sea trout, is a substantial industry on the west coast, with cages in many of the sea lochs. Salmon is Scotland's biggest food export worth over £1 billion to the Scottish economy.
In 1971, 14 tonnes of salmon were produced with individual salmon weighing an average of 6-9 pounds. By 2015, 186,508 tonnes were produced with individual salmon now weighing an average of 20 pounds. This increase is due to the many, many improvements made in the industry with better strain selection and improved diets etc. resulting in fish growing faster over the same 18 month period. The number of fishermen employed on Scottish based vessels was 4,992 at the end of 2013. Compared to 2012, there are 244 more people employed on Scottish based vessels, representing a five per cent increase.
Peterhead, in the north-east of Scotland, was Britain's top fishing port in 2015, with a total of 127,000 tonnes of fish and other seafood worth a total of £111 million landed.
---
Scottish Whisky Association - published 1st May 2016 (accounts for 2015).
Exports generated £3.86 billion for the UK balance of trade (down 2.4% on 2014).
Exports earned £125 every second.
38 bottles were shipped overseas each second.
99 million cases (12 70cl bottles at 40% vol) were exported worldwide.
Laid end to end they would stretch about 30,000kms - or about six times the distance between Edinburgh and New York.
More than 10,000 are directly employed in the Scotch Whisky industry - many in economically deprived areas.
Over 40,000 jobs across the UK are supported by the industry.
About £1 billion contributed to the Exchequer in taxes.
Some 20 million casks lie maturing in warehouses in Scotland.
To be Scotch Whisky, the spirit must mature in oak casks in Scotland for at least 3 years.
115 distilleries are licensed to produce Scotch Whisky.
Did you know?
Scotch Whisky accounts for around a quarter of UK food and drink exports.
Scotch Whisky is sold in around 200 markets worldwide.
Scotch Whisky sells three times its nearest rival whisky.
Drinkers in the UK often choose to enjoy it with just a little water, but in Spain they mix it with cola. In Japan Scotch is enjoyed with lots of water and ice, and in China with cold green tea.
More Scotch is sold in one month in France than Cognac in a year.
The above figures relate to Jan-Dec 2014.
The most up-to-date figures available from HM Revenue and Customs (HMRC), published 2/3/16 by the Scotch Whisky Association, reveal the number of 70cl bottles of Scotch released for sale increased by 2% last year. Some 84.9 million bottles were released for sale in 2015, up from 83.3m the previous year.
The moderate increase in volume of Scotch sold in the UK recently comes on the back of years of decline. The number of bottles released for sale in the UK has fallen by around a quarter in the last 10 years. In 2005 more than 107m bottles were sold, but volumes have never exceeded 100m in one year since 2008.
The UK is still the third biggest market for Scotch in the world, but it is fragile and competitive.
---
The Wine and Spirit Trade Association has produced a tourist gin trail map showcasing a selection of Scotland's gin distilleries and bars. With 70% of UK gin produced north of the Border, Scottish gin distillers are keen to show they are blazing the trail for the industry. With over 30 gin producers and distillers based in Scotland, and more due to open in 2016, the map is not exhaustive, but is a good starting point. It features big cities in the Central Belt, as well as distilleries as far flung as Shetland and Caithness. Rock Rose, Caithness; Caorunn and Gordon Castle, Moray; Shetland Reel, Shetland; Glen Wyvis, Dingwall to name but a few are local to this area. 
Harnessing Scotland's unique natural resources, Caorunn Gin is expertly handcrafted at Balmenach Distillery, Cromdale, a working malt distillery in Speyside. Taking its inspiration from Celtic tradition, it is mixed to perfection in our unique Copper berry Chamber using six traditional and five Celtic botanicals.
---
Beer has been produced in Scotland for approximately 5,000 years. The Celtic tradition of using bittering herbs remained in Scotland longer than the rest of Europe. Most breweries developed in the central Lowlands, which also contained the main centres of population. Scottish brewing reached a peak of 280 breweries in 1840. The merger of breweries led to changes, the higher hop content of some of the beers allowed them to travel better than previous products thus creating a higher quality product for export. Edinburgh and Alloa in particular became noted centres for the export of beer around the world. By 1920, there were only 62 brewers left. The decline continued so that by 1960 there were only 26 and by 1970, they had dropped to just 11. At the end of the twentieth century, small breweries had begun to spring up all over Scotland and the decline was reversed. The CAMRA Good Beer Guide 2015 states that Scotland is home to 80 breweries. Many of the breweries create world-class and award-winning beers.